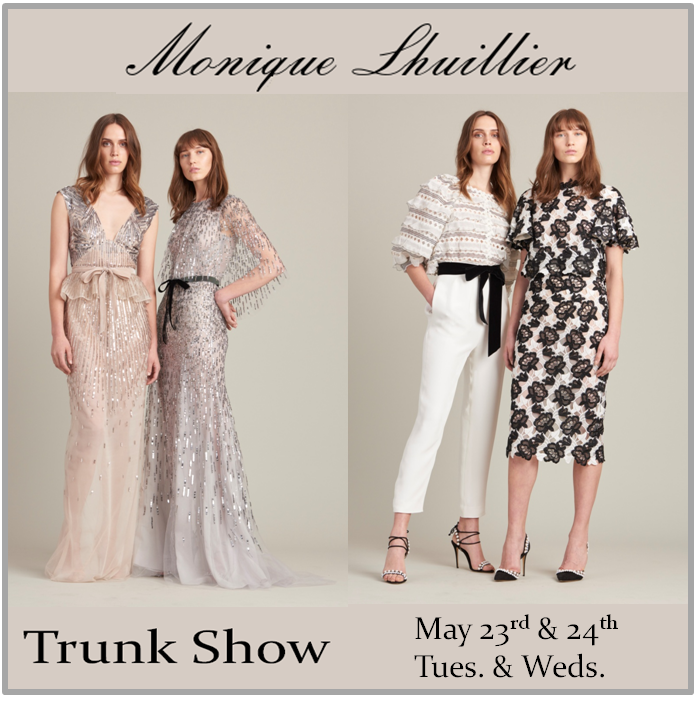 MONIQUE LHUILLIER
Monique Lhuillier designs capture the essence of sophisticated luxury by provoking femininity, allure and glamour that have made her renowned in the world of design. Monique's innate sense of style is prevalent throughout her ready-to-wear, accessories and bridal collections.
Monique appreciates that luxury can be whimsical and playful, allowing the brand to become a destination for women who understand the art of fashion. Monique's craft and techniques defy the conventions of day versus evening dressing. Most recently, Monique launched her first line of accessories – the collection includes footwear and bags that are luxuriously constructed and make a statement. Like her ready-to-wear, the accessories feature luxe fabrics, textures and exquisite construction.
Monique Lhuillier is internationally recognized as one of America's foremost designers. Established in 1996 by Monique Lhuillier and her husband, Tom Bugbee, the company is considered one of the leading fashion houses in design, quality and creativity. Fans include Emma Stone, Blake Lively, Taylor Swift, Reese Witherspoon, Kristen Bell, Anna Kendrick and the First Lady Michelle Obama among others. Monique's signature design sensibility has led to the launch of licensed products including fur, fine jewelry and tabletop, transforming the company into a luxury lifestyle brand. Monique Lhuillier products are distributed through Monique Lhuillier stores, premium department stores and finest stores throughout the world.
Monique and Tom live in Los Angeles with their two children, Jack and Sophia. Monique's career in fashion is enriched by her strong dedication to family and commitment to philanthropic efforts.
New York fashion week tends to be a whirlwind of disjointed ideas. One night, you're bobbing your head to deafening music at a young designer's lo-fi presentation; the next you're checking out Kanye West's new jeans and hoodies; then you find yourself poring over the J. Mendel beautiful evening gowns, which were set up salon-style at Ladurée this afternoon.
Eveningwear is often slapped with a stuffy, unrelatable stigma, particularly during fashion week when everyone is searching for the next big thing. But Gilles Mendel isn't just out to create a fantasy. He thinks about the real-life viability of his clothes (even the couture pieces) and spoke of a high-low missive for Fall '17. "I think today's woman wants to wear a fur coat over a gown, but she'll also wear it with jeans," he said. A shimmering lace dress, for instance, was paired with the millennial girl's must-have item: a leopard coat.
The other furs were as dreamy as ever, and Mendel pointed out a few "wild" mash-ups of color and texture, from a black and mint-green chubby to a fox stole trimmed with ostrich feathers. Hands-down the most impressive coat was the hooded, oversized fox and skunk parka, which Mendel styled over a tulle midi dress. It was impossibly luxe, yet informed by the street–and if last week's blizzard and 40 mph winds taught us anything, it's the importance of great, super-warm outerwear.
Congratulations!!!  Your pride and joy is a graduate!!!  All of their graduation milestones are of course, important, but some ceremonies, due to formality, length or venue require extra care, in deciding what to wear.
There are definite dont's and they all begin with with adverb "too"; anything too bright, too short, too low cut, too tight, or too boldly printed will be out of place and might even embarrass your grad. Ditto, high heels particularly if it will be a long day and grass to conquer.
IMO, this is a day to channel whatever your closest approximation of Kate Middleton is. The star of the day, is unquestionably, your child, so quiet, ladylike elegance is what is called for.
                                                            Paula Hian
Outdoor graduations in particular, can be tricky.  So much depends on weather, which can have us shivering one day and sweltering the next.  It's never a bad idea to have a something to add a bit of warmth, for too chilly air conditioning or a dip in temperatures.  I love Susan Bender's leather shrug which makes everything it's worn over look chicer.
           Susan Bender Leather Shrug
(available Fall 2017 at Mary Jane Denzer)
The easiest  way to look completely polished is to simply wear a dress.  A knit, in particular, is a great choice…it will look effortless and comfortable, especially if a long day is on tap; ceremony to celebration.  A foot friendly shoe,  like a wedge or a sandal with a chunky heel are the perfect pairing.
And of course since this is such a memorable occasion, a new dress is in order!  It would be our joy to help you find something beautiful.  Call us at 914-328-0330 or visit us at at 7 Renaissance Square in White Plains at the Ritz Carlton.
Congratulations again. You've earned them!
(My thanks to Fairfield County Look for featuring this post in their Lifestyle section).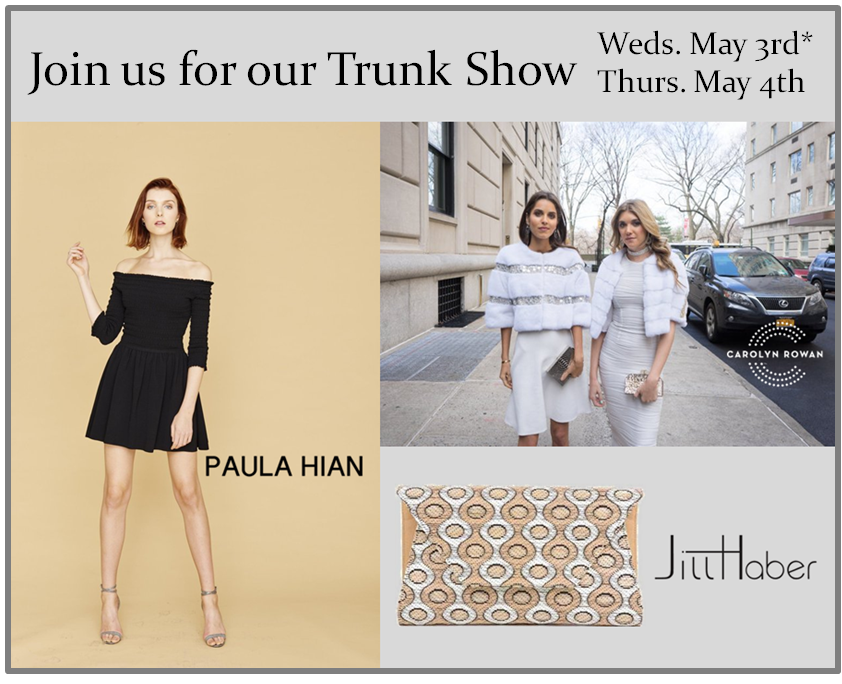 * Lite bites luncheon on May 3rd.