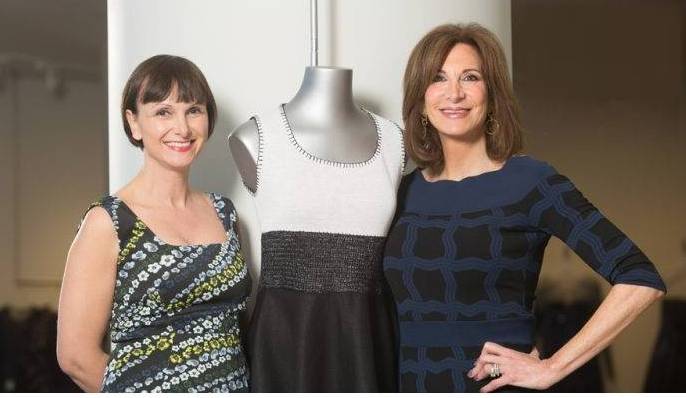 Anastasia Cucinella in Erdem and Debra O'Shea in Paula Hian, partners in Mary Jane Denzer.
BY GEORGETTE GOUVEIA  – APRIL 2017
For more than 35 years, Mary Jane Denzer has been a high-end retail anchor in White Plains, first on East Post Road, then on the corner of Mamaroneck and Maple avenues and, since August 2014, on Renaissance Square in a sleek, gray-and-white, 5,000-square-foot space near The Ritz-Carlton New York, Westchester.
Like any self-respecting fashionista, however, the store keeps evolving. Its latest chapter Mary Jane Denzer finds two new owners at the helm — Anastasia Cucinella, Denzer's longtime right-hand woman, and Debra O'Shea, who for 16 years was the women's personal shopper at Richards in Greenwich and served as a fashion columnist for WAG as Diva Debbi.
They follow in the well-heeled footsteps of a woman who was a cultural icon to Westchester. (It was Mary Jane Denzer who arranged the stunning Oscar de la Renta runway show fundraiser for White Plains Hospital's 120th anniversary gala in 2013.) But she was also a mentor, lifesaver and friend to both women.
"She used to help me when I had a fashion emergency," O'Shea remembers. "Mary Jane was always gracious. She'd say, 'Come down. Take what you need.'"
When Denzer discovered she had pancreatic cancer — two months after opening her dream store on Renaissance Square — she met with O'Shea and asked her if she would be interested in continuing her legacy. At the time, O'Shea says, it didn't feel right. Nor was it the right moment after Denzer passed away (in December of 2015) and her family decided to keep the business going.
The turnkey, O'Shea says, came when the family determined that the best way to carry on what Denzer started was to sell the business to her and Cucinella.
"I worked for her 13 years — 10 full time and three part time when I had my twin girls," Cucinella says. "She taught me everything I know….But she was not just a mentor. She was my friend." As was Denzer's faithful Papillon, Bodhi, whom Cucinella describes as "a frustrated salesman." (Readers will be happy to know that the feisty Bodhi is now happily ensconced in the home of the woman who took care of him during Denzer's buying trips, though, Cucinella adds, he still comes into the shop, perhaps to work with select clientele.)
She remembers Denzer as the consummate saleswoman and stylist:
"She would find the dress that would look perfect on you and then she would tell you why it looks perfect."
WAG observes that tradition on a bustling morning that serves as a harbinger of the soft seasons. While the phone hums, Cucinella and O'Shea attend to a customer interested in an evening gown, a client who intends to be a quietly elegant mother of the groom in a sleeveless mauve Elie Saab gown with velvet trim and a low-back effect and another who tries on a swingy electric-blue cocktail number.
As the pair consult, you're beguiled by an array of creations from day- to evening-wear that stand at color-coordinated attention amid cases and vitrines of equally enticing accessories, such as the fetching lime and animal print clip-ons by Angela Caputi, a designer they planned to meet with during a recent trip to Paris. (See photograph on Page 10.)  Though the two women complement each other — O'Shea in Paula Hian with a look that says "glamorous Greenwich"; Cucinella, an Isabella Rossellini type in Erdem — they are on the same page when it comes to buying. During New York Fashion Week, they both thought, Why buy sleeveless and cover it with a shrug when you can wear the ever-flattering three-quarter sleeves?
They're a trend, along with the color pink and citrus shades, O'Shea says. For fall, think florals, velvets and embellishments. And always high-low dresses, with a cocktail length in the front that sweeps to a ball-gown finish for a '50s flair. (Think Kirsten Dunst in Christian Dior at the Oscars.)
Some things, however, remain classic, including the Denzer mix of well-known and new designers — Preen by Thornton Bregazzi, Tony Ward, Alex Teih, Monique Lhuillier and in-house designer Neil Bieff, among them. And the Denzer approach to salesmanship.
"As Mary Jane used to say," Cucinella recalls, "Don't just make a sale. Make the right one."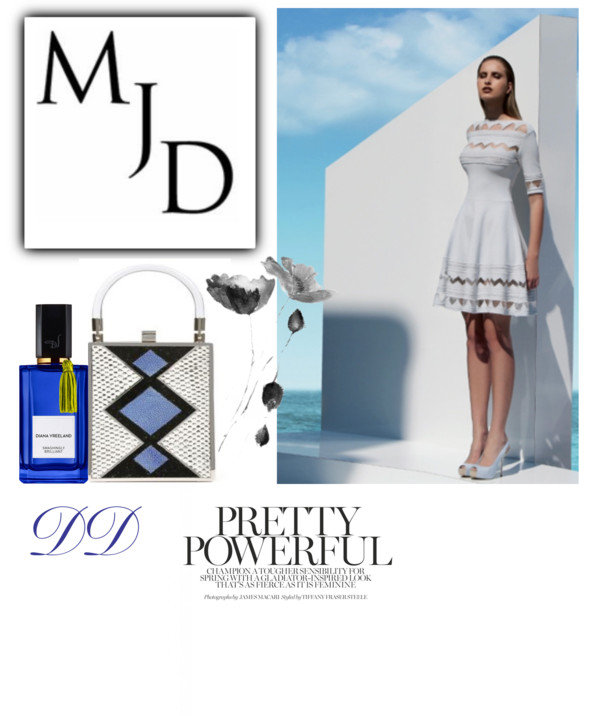 Looking forward to receiving our gorgeous Vicedomini knit dresses and new Jill Haber handbag collection this week!
Basta with the snow already!  Spring is on it's way…
DD
Designer Neil Bieff
I have loved his exquisite, ethereal, hand beaded dresses for many years. Now, I have had the pleasure of spending time with Neil Bieff him at our store Mary Jane Denzer, as he spends time working with our clients one on one, to create their dream dress.
It's not a surprise, that he initially studied painting. Neil Bieff is a master colorist, who artfully layers chiffon in away that surprises the eye. His clothes are deceptively simple, and show at their best, when slipped on.  He loves fluidity and is willing to wait for the, "ahhhh moment"  women have when they look in the mirror.
Neil says, "I know my clothes don't have a lot of hanger appeal, but I'm not dressing a hanger, I'm dressing a woman. It's my job to highlight their best assets, and if I have figured out how to camouflage flaws, so much the better."
One of the nice things to see is how many devoted clients Neil has developed over the years.  Women have told me they have never worn anything so elegant that was more comfortable and nicely, it invites repeat collaborations.
We somewhat jokingly call Neil our, "in-house Designer" at Mary Jane Denzer because he spends so much time with us. When he is in between trunk shows, often lets us keep his samples giving us another fabulous resource to show our special occasion clientele.
Neil also enjoyed a long friendship with our stores name sake Mary Jane Denzer.  I asked Neil to reminisce about a memorable encounter.  He laughed heartily and insisted, "there are far too many to single one out".
"O.K. I countered, than tell me about the very first one."   He laughed again and then relented…
"I had just spent over an hour selecting the silhouette and colors of the dress a client to wear to her daughter's wedding and we were both excited.  Mary Jane was always interested in seeing what was going on in the fitting room, she swept in,  looked at our selection and declared it, "a disaster"!!!
Naturally, it was back to the drawing board, but I was a quick study…After that, we often collaborated together. Mary Jane did have impeccable taste and an unerring eye. I would like to think we learned from each other and it always  ended up benefiting the client.
I asked Neil, "what is your absolute favorite thing to create?"  I was surprised at his answer.  "As much as I love color, I'm always enamored with the pure, elegant simplicity of the little black dress. Often, I will first create a new design in black before interpreting it in color.  That way I can really see the 'bones' of the dress."
It was an absolute joy to attend Paris Fashion Week with my partner Anastasia Cucinella to buy for our store Mary Jane Denzer in White Plains, N.Y. Our vendors are excited for us and  have been fantastic partners, who are looking forward to growing with us. We truly appreciate their support and friendship.
We look forward to continuing to honor the DNA of Mary Jane Denzer; a luxury destination for special occasions, but we will also be spreading our wings! We have added several collections that will allow us to completely service all aspects of our clients lifestyle; so in addition to your Red Carpet moments, you will be able to find the perfect, "guest" dress, luncheon outfit, or casual but chic outfit to wear to a committee meeting.  We also found fresh and exciting accessories at the tents in Paris and look forward to receiving the fabulous scarves, jewelry and bags we purchased.
The term "Fashion Week" is truly a misnomer…Fashion Month is more accurate. What begins in New York, continues to London, Milan and finally Paris.
My fashion legs are pretty sturdy, but I can attest that New York and Paris were plenty to take in.  The other reality is when you arrive at the showrooms.  Of course the marvels that walked the runways are their too, but the reality is often in the trove of wearable, 'commercial' clothes, that most buyers actually buy, lined and with necklines built up beyond the navel.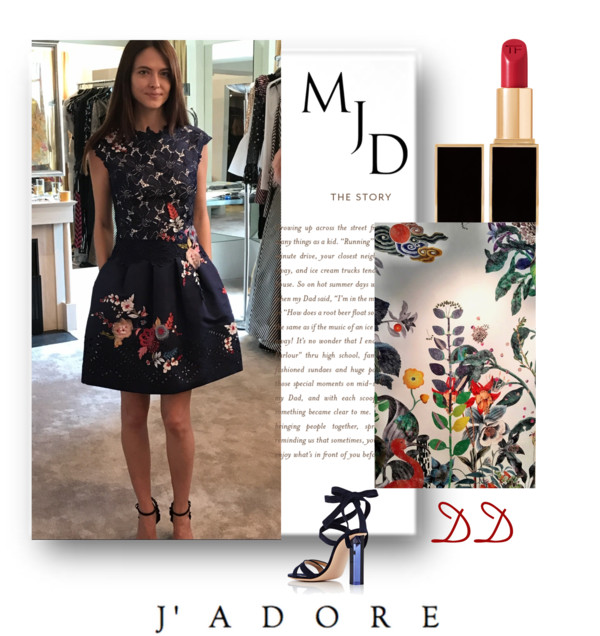 My partner at Mary Jane Denzer  Anastasia Cucinella  and I just returned from Paris Fashion Week Fall 2017"OOH LA LA" sums it up well!
We loved this pretty Monique Lhullier dress and will definitely be ordering for Pre-Fall (late May delivery).  We ordered the collection, which hit all the right feminine fashion notes that are meaningful to our clients, while keeping a sharp eye on price.
J'Adore!
Stay tuned for more!  Our friends and followers enjoyed a front row seat of our journey via Facebook and Instagram, (Mary Jane Denzer and DivaDebbi 1).
Good things are in store for MJD…literally.
xox,
DD