Well. Oh my and wholly -rap! How, exactly, the wrong envelope for Best Picture was given to poor Faye and Warren, who I thought were having a dual senior moment, we don't yet know. Price Waterhouse….Your FIRED.
Kudos to the producers of La La Land, who could not have been more gracious and congrats to the Moonlighting cast and crew on your win. Jimmy Kimmel was a winning host, who navigated the evening well and ended it humbly and adorably.  You will be asked back, Jimmy. For those of you just waking up, here's a nice recap of the final moments, courtesy of Vulture.
But, I can say unequivocally, this was the least exciting Red Carpet, in 89 years.  Seriously. Where was the fashion??? Where were the stars???  And why has it become a faux pas for an interviewer to ask the age old, Joan Rivers standard, "Who are you wearing"??? Since I don't know nor is the information readily press available, many of my loves and loathes will not have designer attribution…in most cases, this will be a blessing…
The R.C. was trend light as well, beautifully cut simple black dresses, white, red and two beauties in gold and nude, worn by fashion A Listers Emma Stone and Nicole Kidman.
Let's get started…shall we???  Because this blog, that sometimes takes two days to write and edit, should be up and complete by 10pm, just in time for Billions.
The A+ Team
Brie Larsen. Magnificent in Oscar de la Renta
Emma Stone in Givenchy Couture. Magnificent.
Love the hair, love the jewels. Fingers crossed…
Nicole Kidman.
Perfection
 The A Team
Kirsten Dunst in Dior
Taraji P. Hensen in Alberta Ferretti
Olivia Culpo exquisite in Marchesa
Alicia Vikander
Moving on…
Disappointing? Viola Davis.  I'm fairly certain she is going home with another Oscar tonight and was a bit let down, particularly after her A List turn at the Golden Globes, in lemon, sequin, one shouldered Michael Kors. Comparatively,
this is too tame for the Oscars.
I haven't yet seen Fences, but every time I see the commercial, where she is giving Denzel what for, dripping in tears and mucous, I burst into tears.  If that isn't Oscar worthy, I don't know what is.  Viola, I'm rooting for you. (And YAY! they just announced her win!).
Underwhelmed as usual by the always overrated Michelle Williams.
The Love/Hates:

Gobsmacked by Haley Berry. Love it from the clavicle down.  Completely disconcerted by the Foxy Brown wig, but admittedly, love the Versace gown. I'm wide open for theories and explanations…
Hailee Steinfeld in a handpainted Ralph and Russo

Love: The hair and makeup, neckline and gown.
Hate:  The train and the sheerness. She's nearly naked.


The (very long) F List

Read more
Are you excited for Hollywood's big night???  I am, of course.  The most fun part being the Red Carpet naturally…
As always, I have zero interest in what the men are wearing.  If I ever had the opportunity to interview on the RC, I would skip them entirely…either they get it right, ala George Clooney and keep it sleek and classic, or muck it up clownishly. Nothing. Worth. Noting….It's all about the Girls.

I adore Emma Stone and also enjoy her Red Carpet choices, that are never boring, suit her personality to a tee and are almost always on my A List.  Above I imagined her in this spectacular Tony Ward couture gown.  We are very excited to just receive some fabulous new gowns and cocktail dresses at Mary Jane Denzer .  The Lebanese Italian designer is a master of cut and only uses the most exquisite silk, lace and tulle for his creations.  I had a ball playing Barbie and trying them all on!
So, do check in tomorrow, for my DivaDebbi Red Carpet Report Card.  Let me know your loves and loathes!
Happy watching…
xox,
DD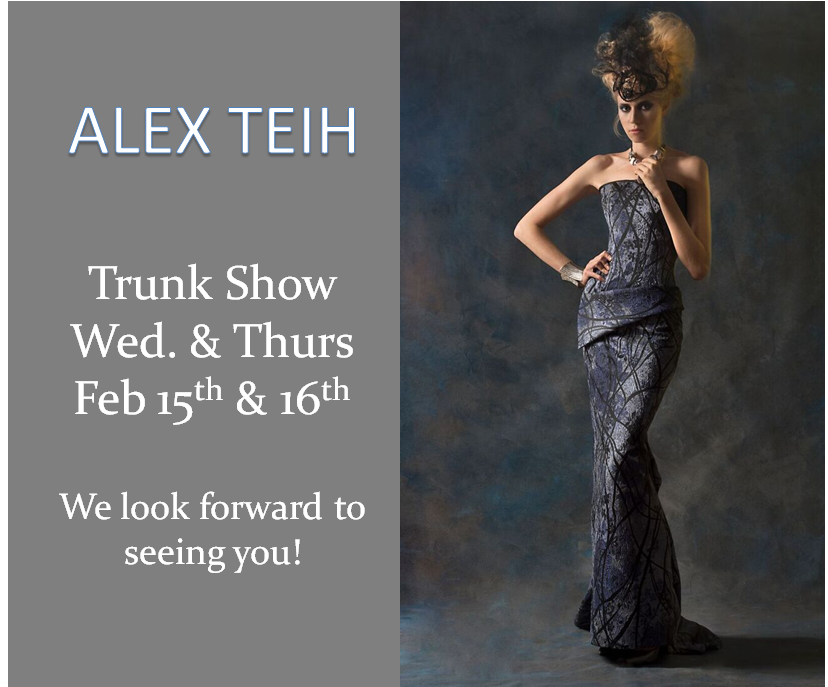 On Wednesday and Thursday this week, we are excited to be having at trunk show with designer Alex Teih.
Trunk shows present a unique opportunity ; rather than seeing just selections the stores buyers have purchased, clients have the chance to see everything a designer has created for the season.  As well, there is often the opportunity to tweak silhouettes, like adding a sleeve or changing a neckline. Color options are always available, which is so important when a palette for a special occasion may be orchestrated by the bride or to complement a theme.
Fashion designer Alex Teih is known for his glamorous evening wear and cocktail dresses. His high fashion couture designs are modern and flirtatious with a polished sophistication. His gowns, sexy and super stylish, have the important, but easy to wear, silhouettes suitable for the relaxed formality of today's lifestyles.
Based in New York, Alex Teih creates entrance making dreams that are the envy of every other woman in the room. His European heritage, combined with a background in cinema and costume design, are evident in his collection's dramatic styling.
A master of draping, Alex Teih achieves grand effect with simple gestures. Impeccably tailored and controlled bodices suddenly make way for impulsively layered skirts and hems. Horsehair hems are a favorite of Teih's. His designs always begin with fabric. Teih then works to discover its essence in his designs. The result is a collection that features a perfect balance of elegance, sophistication and his signature aura of edgy romance.
We look forward to seeing you and helping you find something special, flattering and beautiful for your upcoming event.
xox,
DD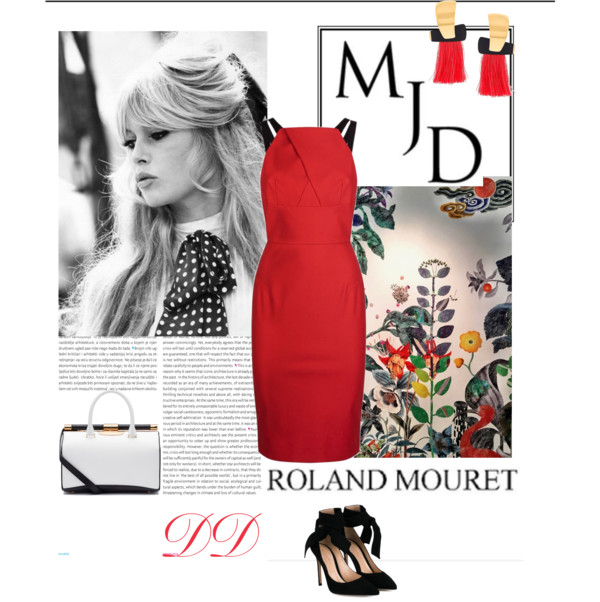 We LOVE Roland Mouret at Mary Jane Denzer.  His timeless, feminine silhouettes are a joy to wear! Mouret has always been a favorite of mine, and some of his fabulous spring dresses have just arrived!  Also a fave???  His gorgeous evening blouses are perfect over slim cut blouses and pencil skirts.
I've styled this ensemble with a Tyler Ellis handbag and Lizzie Fortunato earrings, two fashion accessory brands we adore.
Just lovely!!!  Come visit us. Mary Jane Denzer 7 Renaissance Square, White Plains, NY. 914-328-0330.  Get your gorgeous on!