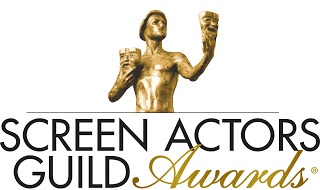 Oh my.  I can honestly say I have never seen so many awful looking dresses at one time, for any given awards show. My snark meter was in overdrive, has I viewed the arrivals.  I realized there would be no DivaDebbi Flips and Flops, just Flops.
Soooooo disappointed.  I am always rooting for gorgeous, even more so now, as I look for inspiration in buying for my store Mary Jane Denzer.  As such, I am only going to list the one look that looked both chic and fresh and keep the dozen plus misses to myself.
Trends? Velvet, bare breasts visible under lace, white, pink, matte dark lips and minimal jewelry.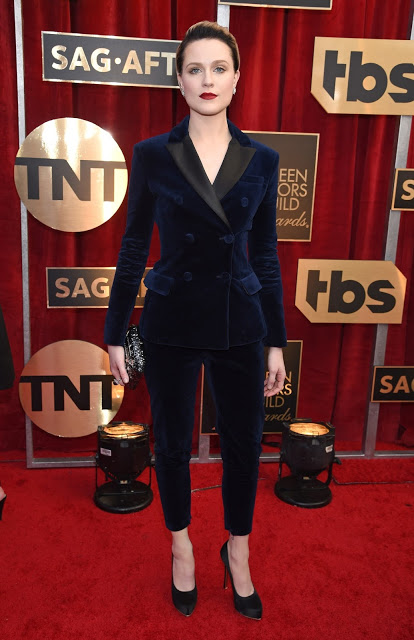 Evan Rachel Wood
in Altazurra
After the last 7 days, I don't have the heart for even a whiff of snark…maybe it's time to abandon it altogether.
Peace out Lovelies…
xox,
DD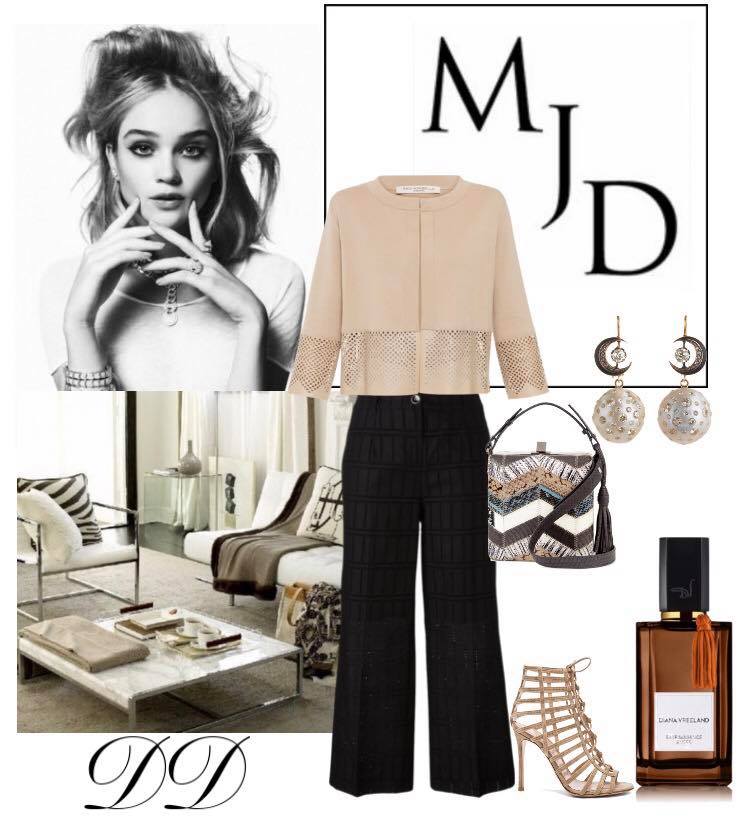 Mary Jane Denzer
7 Renaissance Square/Ritz Carlton
White Plains, NY
914-328-0330
We love Rani Arabella's beautiful knitwear, often embellished with leather, as above, custom silk screen prints or fur trims. Here paired with Blumarine trousers and one of our favorite handbags designers, Jill Haber.

Mary Jane Denzer has enjoyed a reputation for magnificent special occasion clothes for nearly 40 years.  It is a pleasure and a passion to continue to provide them for your Red Carpet moments.
As my partner Anastasia Cucinella and I move forward, we will be focusing on beautiful clothes for all your lifestyle needs; pretty cotton dresses for graduations, the perfect stretch leather blazer or suede pant, a gorgeous top to wear on a Saturday night with jeans, etc…
It's our goal for Mary Jane Denzer to be a place for you to accomplish all your shopping needs. Come be pampered in our gorgeous store by us and our caring staff and talented seamstresses.
 We look forward to seeing you!!!
 xox,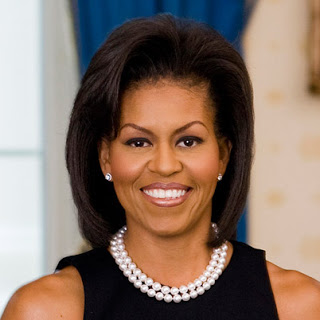 Michelle Obama
(Her official White House portrait)
I for one, think Mrs. Obama represented us on the world stage with grace and eloquence over the last 8 years, and for that I am proud and grateful.  She loves fashion, and wears color beautifully. She's quite fond of bold prints, which can be fabulous, as long as the wearer is still more evident then the dress.
Her statuesque figure is tricky and in reviewing many photographs, I ultimately preferred the silhouettes that highlighted her assets best; great arms, decollete and a small waist, usually best emphasized in A-line silhouettes, strapless, V-neck, one shouldered, criss cross and cut in necklines. Some of my favorites are below.
I believe her real star turn, was in the photo below. She broke with her original stylist and under new guidance, was dressed for the first official state dinner for India's Prime Minister and his wife in Naeem Khan.  I think she looks breath taking!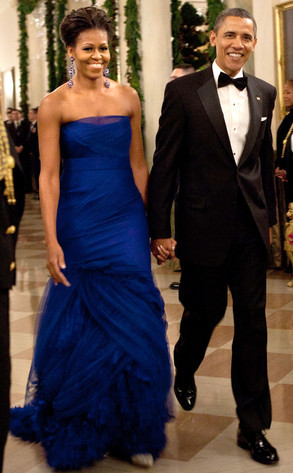 In Vera Wang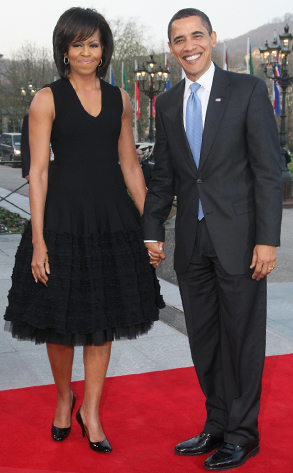 In Azzedine Alaia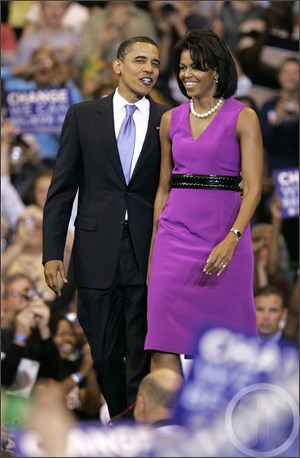 In Maria Pinto
NO ONE does prettier floral's than Erdem!!!  Come see the new collection at Mary Jane Denzer in White Plains, NY or call us at 914-328-0330.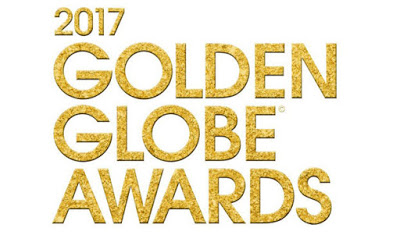 Ok Lovelies, let's get started on Golden Globes Red carpet 2017, shall we???
Well, I'm one for two…Jimmy Fallon was not as I predicted, a natural. He is so likable and I don't think I was the only one really rooting for his success, but his performance as host, save for the opening La La Land tribute, fell short.
Ms. Streep,  who was both nominated for her performance in Florence Foster Jenkins and the recipient of the Cecile B. DeMille  Lifetime Achievement Award, was however, horribly attired and coiffed.  Bam.  No matter what your politics, I found her acceptance speech, deriding President Elect Trump, to be completely out of place and found it uncomfortable to watch.
Moving on to fashion.  I loved that the stars really pulled out the stops for the GG's, traditionally a bit lower key than the  Oscar's.  I'm drooling in anticipation of what's in store for us on February 26th.

Trends included:
Canary yellow, which in my estimation is the  single hardest shade for a woman to pull off successfully, but was managed well by Viola Davis and Natalie Portman,
Pink– divine on Lily Collins, and Zoe Saldana, cloying and overly sweet on Felicity Jones and Carrie Underwood.
Metallics- lovely on Emma Stone, Naomi Harris, Priyanka Chopra and Ruth Negga, (though I have no clue who she is.)

Deep plunging necklines, impeccably worn on Kristen Bell, Emma Stone (always trend savvy and nailing two of the big ones),  and Mandy Moore, who stunned in a navy Naeem Khaan.

Black and White- horrible on Naomi Campbell, Sophie Turner, Jessica Biel and Heidi Klum. 

White- Drew Barrymore, Tracee Ellis Ross, Thandie Newton and Sarah Jessica Parker in Vera Wang. (Just. Say. No.)

Interestingly, some of my A List designers, also ended up on the F List;
Zuhair Murad, Gucci and Louis Vuitton.   Go figure!!!
The A+ Team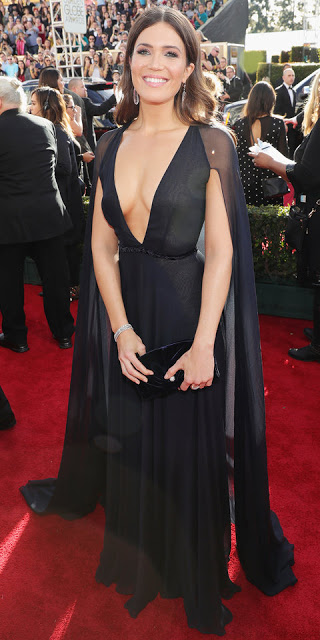 Mandy Moore in Naeem Khan
(well done, again. She made my last A List too)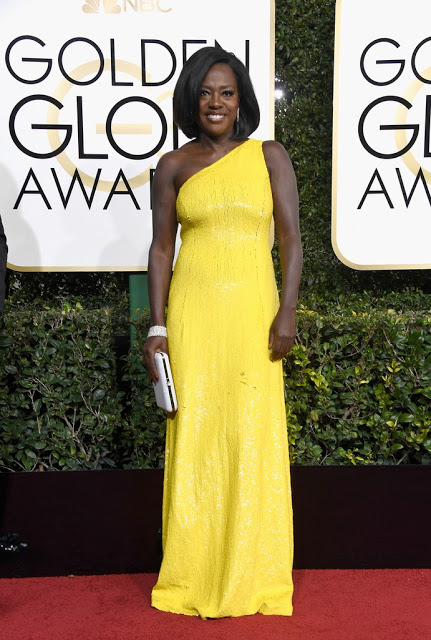 Viola Davis in Michael Kors
(I thought she was introducing Mother Theresa
when she was presenting the Cecille B. DeMille award)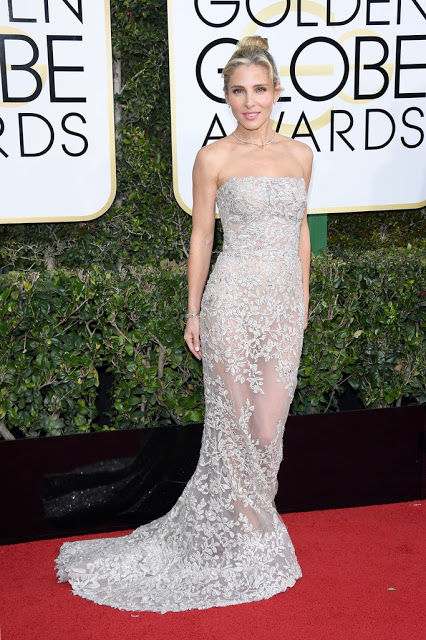 Elsa Pataky Zuhair Murad
Dee-Vine!!!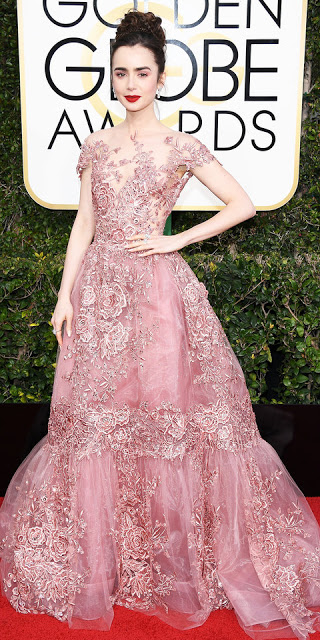 Lily Collins in Zuhair Murad
Regal.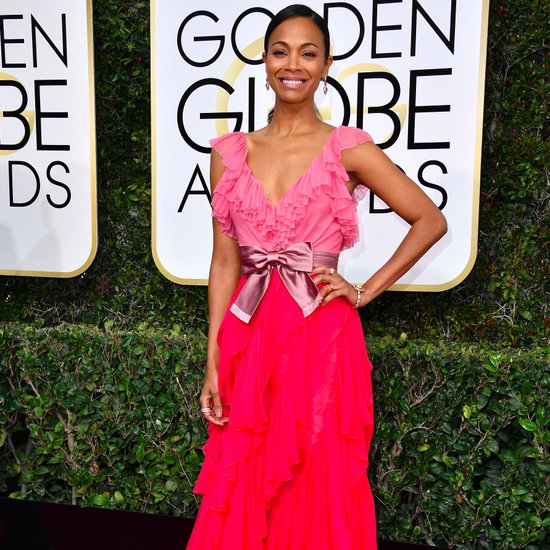 Zoe Saldana in Gucci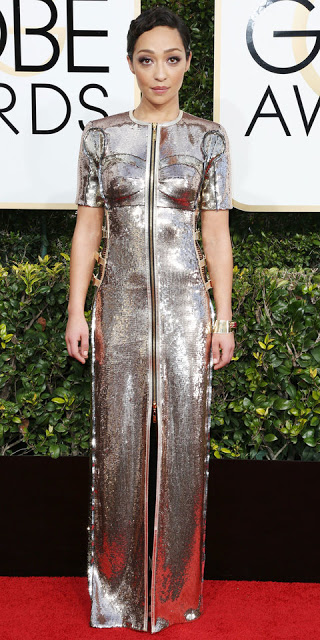 Ruth Negga in Louis Vuiton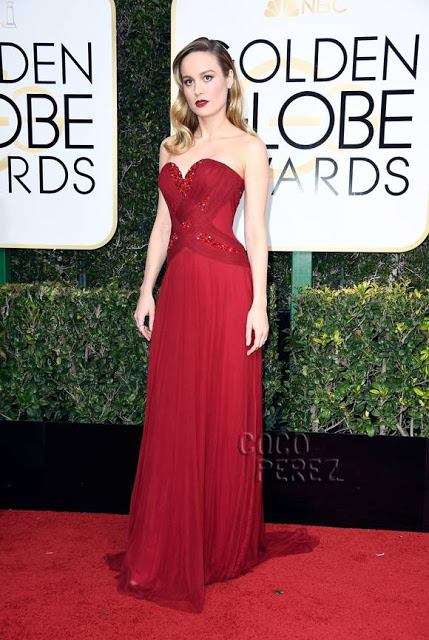 Brie Larsen in Rodarte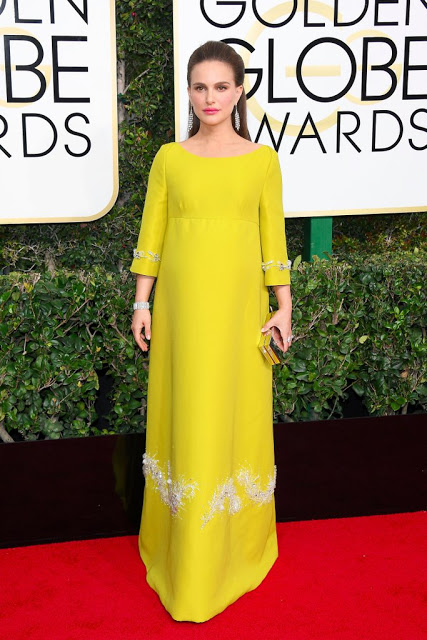 Natalie Portman pregnant and resplendent in Prada
Who fell flat for me?
Some of you may have swooned for Drew Barrymore's Monique L'Hullier, just not my kind of frock. I was also underwhelmed by Blake Lively, Julia Louis Dreyfuss,Jessica Chastain, Michelle Williams, (whose stewardship as a Red Carpet darling is a mystery to me), Sienna Miller, Felicity Huffman, Sophia Vergara (finally in something A-Line, but sadly awful). and Reese Witherspoon, whose Atelier Versace was pretty, prommie and underwhelming.
And of course, the good stuff:
The "F" List: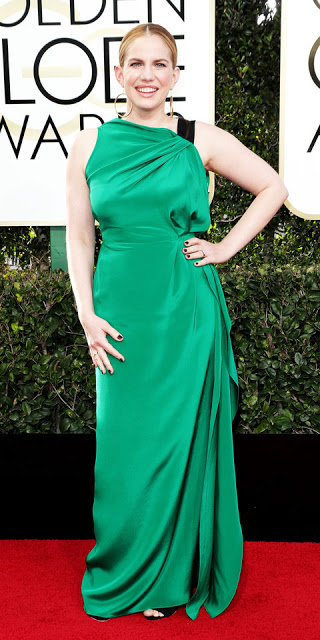 Anna Chlumsky
Ho Ho Ho. Green Giant.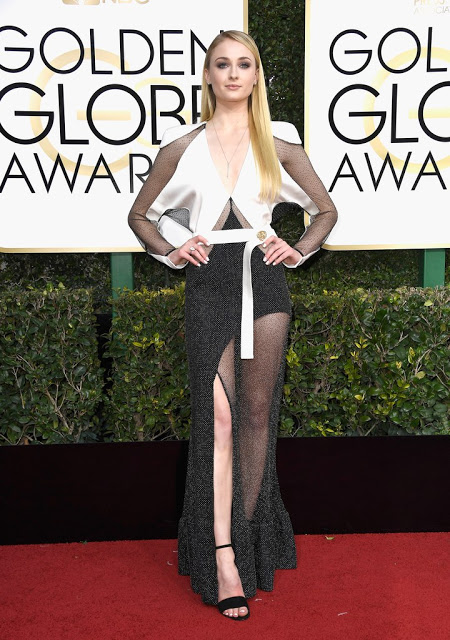 Sophie Turner in a Vuitton trainwreck.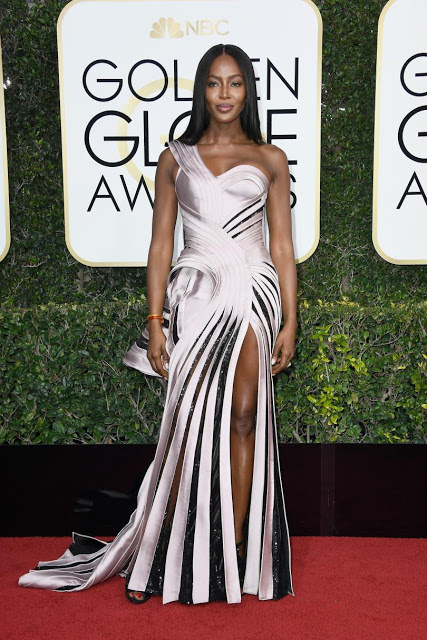 Naomi Campbell in Atelier Versace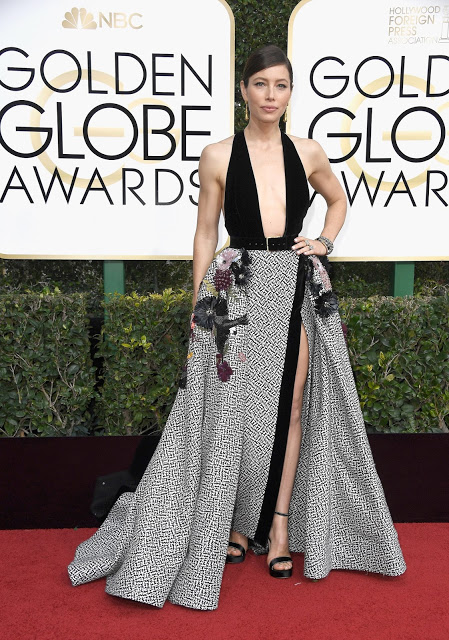 Jessica Biel in Elie Saab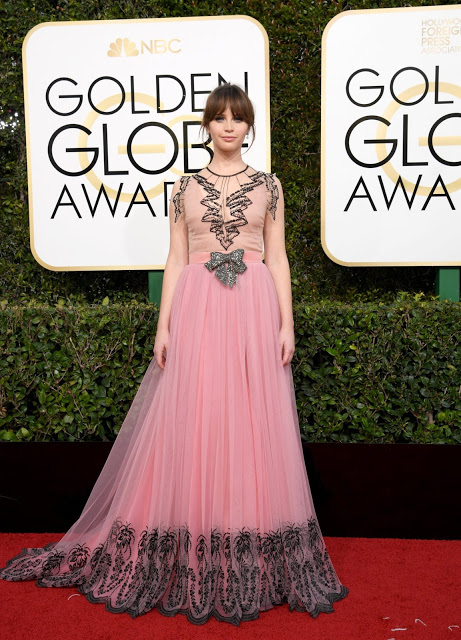 Felicity Jones who lost her sheep, in Gucci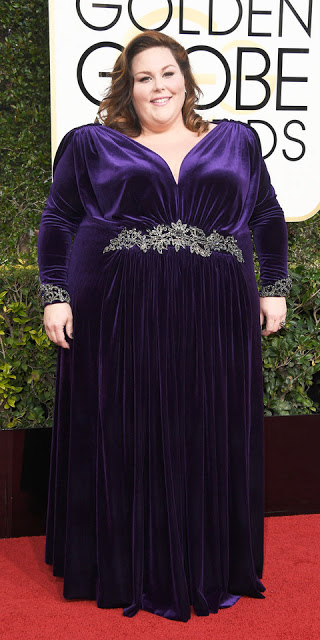 Chrissy Weitz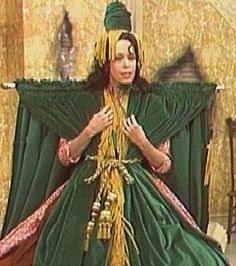 Sometimes a picture is worth 1000 words
Seriously???
And camel toe???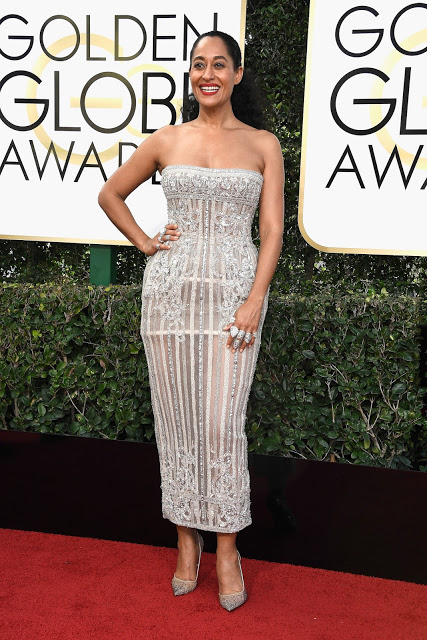 Tracee Ellis Ross Zuhair Murad
Too much junk in that trunk. Sorry.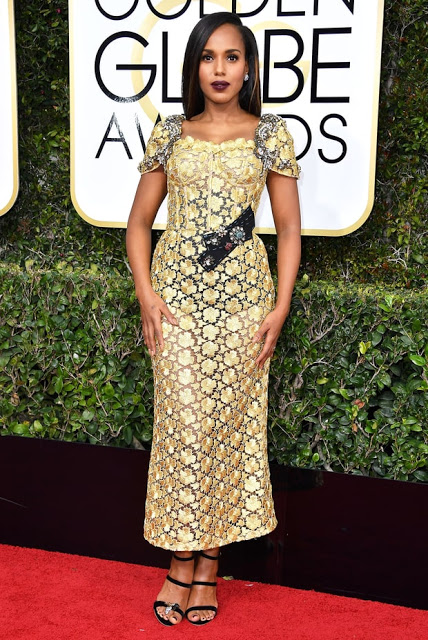 Kerry Washington in Dolce & Gabbana
Kerry is another perennial on my F List.  
I hate every single element of this dress.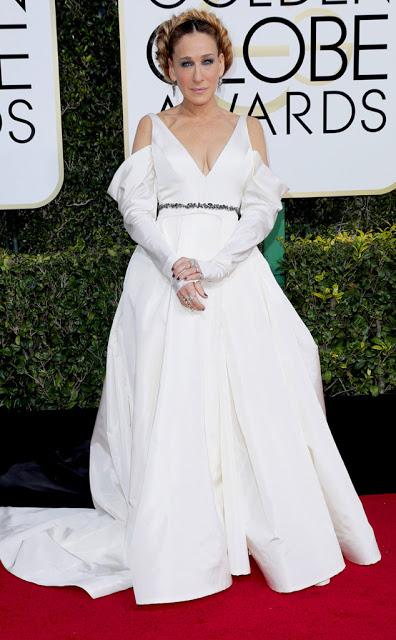 Sarah Jessica Parker in Vera Wang
Where do I begin Princess Lea??? Maybe in Oz with Glinda…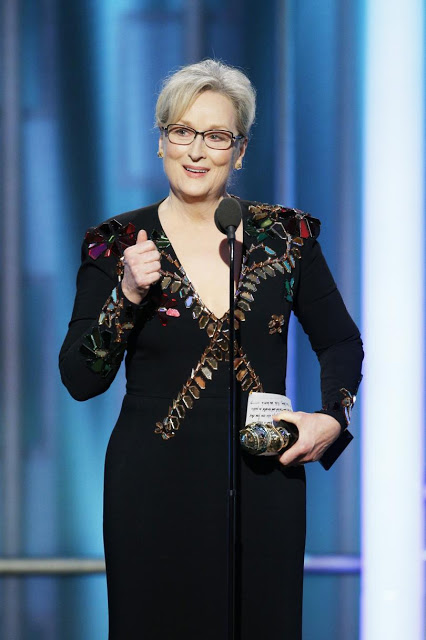 Meryl Streep. 
Designer Unknown. Thankfully.
Would she not have looked better in either of the lovely Neil Bieff gowns below, or the pretty Burgundy and silk Pamella Roland with tiny black, tulle net sleeves???
Available at Mary Jane Denzer, White Plains NY
914-328-0330
So Lovelies, who did you Love and who did you Loathe??? Who did I miss???  I hope you enjoyed. Please share. And remember, if you always want to look your best for your own Red Carpet moments, do call us at Mary Jane Denzer. Promise, promise, with every fiber of my being, you will never end up on anyone's F List. There are far too many beautiful, well fitting options, to ever look anything less than splendid!!!
xox,
DD
I am so looking forward to tonight's 2017 Golden Globes and of course the Red Carpet spectacle.  Longtime DivaDebbi readers know I always follow up the GG's, Oscar's and Emmy's with a, "report card of my loves and loathes" on the Red Carpet, (and nicely, my Lovelies look forward to reading them

I think the GG's are the most fun to watch of the three; firstly, it combines film and television, so it's one big lovefest among the stars and it's nice to see them relaxed, drinking and eating with friends and cast mates.  How terrific is it, that the sour Ricky Gervais got the boot and is being replaced by the hilarious, Jimmy Fallon??? I predict he'll be a huge success and will encore next year.

I will be watching the Red Carpet with an even keener eye this year.  As the new Co-Owner of Mary Jane Denzer in White Plains,  my partner Anastasia Cucinella and I will continue to buy exquisite evening wear, from the best designers the world over.
Since the stars, particularly the nominees, have access to the best stylists and designers, it's always fun to see who got it right and who, often perennially, will end up on my F List.  Repeat offenders include Sarah Paulson, Christina Hendricks, Heidi Klum and in contention for her 30th Golden Globe award, the remarkable Meryl Streep, who lives a mere 20 miles from MJD.

Dreams to come true…mine is Meryl.  I get that fashion is not everyone's priority. It doesn't have to be hers. It is mine. Why not, in the spirit of the great Dame Helen Mirren be equally lauded for your talent and style???
The Oscar's are coming…February 26th, to be exact.  I'm here for you. I will select. I will schlep.  I will travel. I will deliver.  Call me! 914-328-0330.

So Lovelies, tune in tomorrow for my full DivaDebbi 2017 Golden Globes Report Card, and do chime in with your own loves and loathes…
xox,
DD